Coming back to your normal life after a vacation can be detrimental to your health. Literally. I was completely jet lagged and then after a couple of days, oh so sick. I was so excited about what I had just seen and explored in Greece. I was ready to take on the world. Then I was down for the count for a whole week.
The one thing that I couldn't wait to do when I got back was see my Teddy. Of course that made me feel loads better about being home. I had decided that it was a good idea to schedule him a grooming appointment for early in the morning, the first day I was home. Not the smartest idea, as I was exhausted. Luckily the Mobile Paw Spa comes right to our house. He gets a blueberry facial from them that makes me want to eat his face right up! But I digress. My Mom was nice enough to bring the little guy home and it was a funny reunion. This was the longest time that I had ever left him and I think he was a little bit confused. He walked into the house with this look on his face like "Oh yeah! My other house!" Between me, my parents, and my Grandmother I swear my dog thinks he owns 3 homes. He walked over to me and immediately started shaking with excitement. Then he sat down and almost hid behind my leg and just glared at my Mom. His look seemed to say "You better not try to take me away from my Mama lady!" So without so much as a "Thanks Gamma for taking care of me!" my mom left us to get reacquainted.
Teddy obviously was most excited to see me, but also he couldn't wait to get all of his toys out. I swear it's like having a kid. I put the toys away and he one by one takes them out. He had a bit of a frenzy trying to play with every one of them. Then, since I was completely jet lagged, we both passed out. When the Mobile Paw Spa arrived way too early in the morning for my liking, Teddy was NOT a happy camper. He did not want to leave my side. Dogs are so much more emotionally intelligent than we give them credit for. They feel so deeply, sometimes more than humans do. It was a production getting him out of the house and into the the groomer's Mobile Spa. He toughed it out and came back smelling of blueberries and looking like a new dog! That's really the last item of interest from that day as we got our snuggle on and were complete couch potatoes.
Unfortunately I ended up catching some kind of wicked bug from the long flight or just from being exhausted when I got back. I had to skip my volunteer shifts at the shelter for 2 weeks! Any time that I have to skip a shift is a sad time for me. I really look forward to that time every week. I finally was able to get back last week and it was amazing. We had the greatest dogs and I loved seeing my fellow volunteers, whom I now count as friends of mine. We had a night full of being able to spend quality time with the dogs and give them the TLC that they needed. The spring weather here has been touch and go, but it was a beautiful night. Even the barn yard animals were out and about. We have a beautiful horse that is up for adoption and I got to see him stretching his legs in the yard. We also have a resident miniature horse name Xylor and a goat (I feel bad not knowing his name, but I highly doubt he knows mine either). They were out grazing and enjoying the night. It's really fun to walk the dogs past the barn and see their reaction to the sites, sounds and smells. Most of them have never seen such things. All in all it was a wonderful first night back!
Vacations end (boo) and "normal" life resumes until the next time you are on an adventure. Instead of just counting down to the next vacation, I am trying to make the time in between count. Luckily I have things in my life that make the time pass quickly. If you would like to follow whats going on behind the scenes at the shelter and see more cute pictures of Teddy, you can follow us on Instagram @singldogmom. Also, if you haven't already, remember click the "Follow Single Dog Mom" button on this page to subscribe to this blog. See you next time!
Pup of the Week:
Grant! He is a very sweet boy that's been at the shelter for over a week now. He is very good a catching treats in his mouth!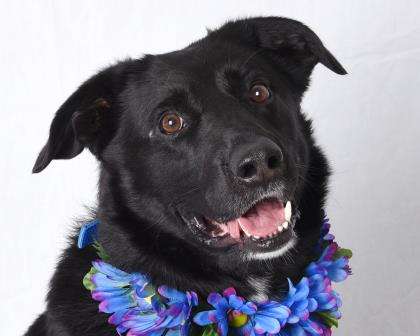 Weekly Pupdate:
Amazing news! Both Jax and Aero got adopted after their time in the Pups in the Pen program. What a great program and what great dogs! We never give up on our pups!