There is a saying that "life is a journey". It definitely is. Hopefully it is a long beautiful journey. There are lows and highs, my life is a mixture of both right now. But I am determined to keep on following my path to see where it will lead me. Recently this Single Dog Mom's path led her to Greece. It was one of the most incredible journey's I have ever taken. I saw things I have never seen, and did things that I never thought I could do. And yes, I sought out as many poochies as I could find.
I left my home headed to Greece with excitement in my heart and anxiety in my gut. There was a lot going on at home that I was leaving, and it was hard to just drop everything and go. Teddy was safe and sound at his Gamma Gampa's house and I was off. Of course, it takes a while to get any place worth traveling. After a drive to Toronto, a flight to Munich, then a flight to Athens, I was there. We got to our hotel room and looked out of our tiny balcony to see an amazing view of the city. This is when it hit me. I'm here, stop being anxious and enjoy this once in a lifetime experience.
Naturally the first thing I was looking for when we set out to explore were little Grecian doggies. To my delight and confusion I found them right away. I saw this guy:
Then his friends joined him:
I noticed that they all had collars, so I asked our tour leader about them. He explained to me that they are the strays of Athens. The city takes care of them by giving them their shots etc. but they are still strays. The people of the city feed them and none of them looked hungry. He told me I could pet them and it would probably be fine, but they were probably really dirty. I just thought this was so interesting and different then any other city I have visited. We continued our first night out in Athens and got to see our first glimpse of the Acropolis (it is unreal) and sample our first taste of authentic Greek food. It did not disappoint, I think it was the best food I've ever had.
The next day we explored Athens until we thought we would drop from exhaustion. Then, extremely early the next morning, we were off on our "island hopper" portion of the trip. We were headed to Mykonos, Paros, and Santorini. Most people on the islands had small dogs, but on the islands the cats run the show. They were every where, and our guide explained that they used to keep cats on the wooden ships coming in and out of the ports to keep the mice at bay. When the ships were no longer made out of wood, the cats just kinda made themselves at home. Even though I am more of a dog lover, I have to admit that all the cats were really cute. They would follow us around and they would be snuggled up all over the islands. On Mykonos my friend and I had one follow us to our hotel room and we named him Mykonos "Myko" for short.
When we went to Paros, which may have been my favorite Island, I even found a humane society! They help take care of the strays on the island. There are boxes around the island where you can give a donation and then take some stones that were painted by the locals. Of course I wanted to dump my whole purse in. This was the most authentic Greek Island we visited and the people were just lovely.
When we got to our last stop, Santorini, there were still cats, but it was the island of the donkeys. There were actually donkeys grazing in the field right outside of our hotel room balcony. There were beautiful wild flowers growing and we had a view of the main city of Fira.
Little Donkey grazing in the feild

View of Fira
They still use the donkeys to take people up and down the 500+ steps to get to the port of Santorini. I personally didn't want to make then do that. We ended up taking a cable car down which was more fun I thought. But the donkeys were reallllly cute.
After getting to the port we were off to see the Santorini volcano. I say see because I guess I thought we were just going to casually stroll around it. To my dismay, no we were climbing the volcano. As usual I was in my head doubting myself the whole time. The people that were at the top looked like ants from the bottom. I couldn't wrap my head around the fact that I was going to be one of those people. I didn't climb fast, I stopped when I needed to stop (which was a lot), and before I knew it I was at the top. The views were breathtaking and I could actually see smoke rising from different spots on the volcano. I'm not gonna lie, I was a little emotional standing there looking at what I had accomplished. I was proud of myself for committing to it and not giving up. It was the hardest thing I've ever done.
After we climbed the volcano we swam in the natural hot springs nearby. It was like a dream, the whole experience. By the end of the trip I was exhausted, happy, and ready to get home to see Teddy. I met some amazing people from all over the world in my tour group, whom I now consider friends. I found the Greek people to be incredibly hospitable and welcoming. Traveling has opened my eyes to so many things. If you have the chance, I highly suggest trying to get out there to see other places and interact with other cultures. You learn so much about people (and animals) and it gives you whole new outlook on life. I definitely came back ready to take on new challenges. I know now that I can push myself to do things I never thought I could. We all can probably do more than we think we are capable of. I haven't been to the shelter since I've been back and I am headed there soon. I can't wait to be back in action! Stay tuned for an update soon!
Pup of the Week:
Meet Mercedes! I haven't been able to meet her yet, but she is a beautiful girl.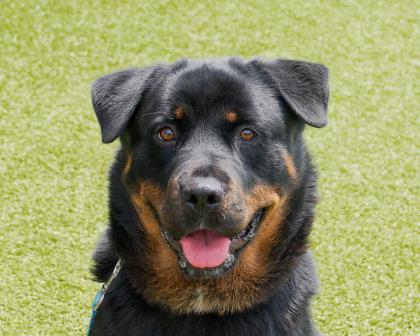 Weekly Pupdate:
Jax and Aero are back from their time in the Pups at the Pen program. They are ready to get adopted!