One of my favorite things to do is travel. I save up all year to take a trip with my friends. So far I've been to many places in our own beautiful country along with Italy, London, and Paris. Traveling and seeing different cultures is life changing. We have so many differences, but one thing that bring us all together is our love for our animals.
Italy was number one on my bucket list of places I wanted to visit in my life, and it did not disappoint. It was absolutely breathtaking. I never really understood the meaning of that word until it actually happened. I was standing there on my first night in Rome looking at the Trevi fountain all lit up at night. All of the breath literally escaped from my lungs and I just stood there staring in awe.
This happened throughout my travels in this beautiful country. I saw the Colosseum, the insanely beautiful Tuscan countryside, the Leaning Tower of Pisa, and the incomparable Canals of Venice. While we were exploring each city, like I always do in life, I kept a lookout for cute dogs. Italy did NOT disappoint. In the bigger cities, like Rome and Florence, there were a lot of small dogs due to the fact that space is so limited for people. In the Tuscan countryside, like San Giminagno, there some bigger dogs since there was more space to walk them. The people there loved their dogs just as much as we do.
Last year I was off to London and Paris. When I got to London it was unseasonably cold for March. We were lucky enough to have a small hotel room that overlooked a little park where people were walking their dogs. To our amusement we saw multiple people walking their dogs in what appearing to be little spandex onesies that covered them from head to toe. I'm assuming it was for warmth, but I had never seen such a thing in the US. I didn't get a picture, but if you go to Amazon you can see that there is such a thing. Click here to view. https://www.amazon.com/Shed-Defender-Grooming-Contains-shedding/dp/B06XR65P4T/ref=sr_1_12?keywords=onesie+for+dog&qid=1549652653&sr=8-12 . In London there were a lot of Staffordshire Terriers, which are similar to the American Pit Bull Terrier but smaller. They are absolutely adorable and you can tell the the British love their "Staffies". See more about the breed on the American Kennel Club website https://www.akc.org/dog-breeds/staffordshire-bull-terrier/. I have told everyone that I could have stayed for weeks in London. The people were so friendly, the food surprisingly good, and the pubs were always fun. I am also a self proclaimed history nerd, and London is the perfect place to indulge.
Paris lived up to all expectations, I mean it's PARIS! There are no words to describe seeing the Eiffel Tower on that first night all lit up. It truly is the city of lights. It looks as romantic and beautiful as in the movies. I was able to walk up hundreds and hundreds of tiny stone steps to get to the top of the Notre Dame Cathedral. I could barely breath when I got to the top, but it was so worth it.
The cool thing about Paris is that dogs are always welcome. I saw them in restaurants & stores. It was a little odd seeing as we aren't allowed to bring them into a lot of these places in the US, but I just loved how dogs were assimilated into all of Paris' daily activities. I would love to be able to take Teddy more places with me. I'd like to think he would be great everywhere, but he does tend to get a little over stimulated sometimes and it could very well turn into a bark fest.
The next place on my bucket list is Greece. I'm hoping to get there this summer. I will be looking for little Grecian dogs while I'm there so I can report back! So onward dog moms! Travel, learn about other cultures, and most importantly pet cute dogs all over the world!!!
Pup of the week:
Meet Dobi! I couldn't resist putting this guy on the blog this week, well because look at that face! He is an energetic and fun little guy. For more info click on the link.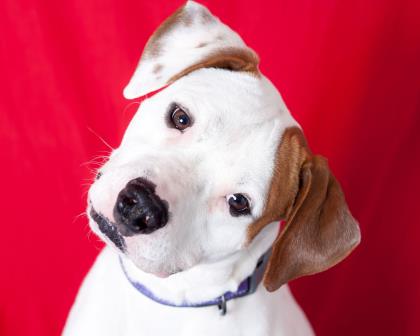 Weekly Pupdate:
Last week's pup, Harley is still waiting for a good home. Until then myself and the other volunteers intend to take great care of him!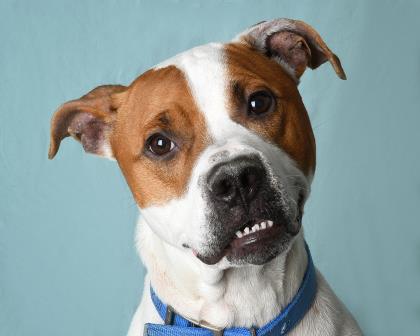 And from a couple weeks ago, Sebastian finally found his forever home last week! Yayyyyy Sebastian!