All of the dogs that my family and I have ever had have been like family to us. That's just how it was. We loved them unconditionally and the they loved us unconditionally. My mom recently had to take her dog, Auggie, in for surgery on his leg. She said "I feel like I'm taking one of my children in for surgery!" That statement really resonated with me because of the truth it holds. I have no children of my own yet, but Teddy is as close as it comes. He is my baby boy. He makes me feel better about the the everyday chaos that is life. He helps me put things into perspective when I get overwhelmed. I think he just sees the world so simply, and through his eyes it is all about love. I wish things were always that simple for us as humans. We should take a lesson in that no matter how crazy and dramatic life gets we just need to remember to love one another.
When I see dogs at the shelter during my volunteering, they are not always coming in from the best of situations. Some of them are terrified, some of them just plain don't want to be there. The one thing that always impresses me is how they manage to pull through it all. Some of them need more time than others, but they usually get there. Teddy is a great example of how resilient dogs are. I don't think I have spoken much about where Teddy came from before he was at the shelter, but here it is. Teddy was given to a man when he was a puppy from a neighbor who's dog had puppies. The man kept Teddy in his basement for the first 8 months of his life. He ate, drank, slept, and went to the bathroom in that basement. After 8 long months the man decided that he really didn't have the time for a dog so he brought him in to surrender to the shelter. Teddy didn't know how to go up and down stairs, grass was a foreign thing to him, and he was extremely fearful. I do not know if that man did any physical damage to him, but the mental damage had been done. After one night with me Teddy had already turned around. He did not want to leave my side. He knew that I was his new family and that love was all he needed.
I am lucky enough to have always had a loving human family of my own. For me they are the most important people in my life. They are the people that stick with me through the mistakes and the hardships of life and still manage to love me. Don't get me wrong, we have ups and downs just like every other family. There are some times that are harder than others. In the past few years a lot has changed. Instead of the role as the baby of the family, I have become more of a caretaker, sharing in more of the family responsibilities. After all, things can't stay the same forever. It has definitely made me a stronger person. I like to say I am the GSD because I "Get Stuff Done". (I sometimes use more colorful language but we will keep it PG) We've gone through some health scares and challenges with distance between us (I'm talking miles). Also, amazing things have happened, like babies being born. Things can get chaotic, but something always happens that reminds me that none of the little things matter as long as we are together and remember to love each other. This is the beautiful lesson that I think we can all learn from the unconditional love that not only dogs, but all of our pets give to us.
I would love to hear some of your stories about your pets, past or present, and how you have experienced that unconditional love. Please leave your stories in the comments section below. Also, remember that if you are not a follower of my blog yet please click the "Follow Single Dog Mom" button below. My goal this year is to at the least get 100 followers.
Pup of the Week:
Just look at this smile! Harley is a sweetheart that been at the shelter for a couple of weeks now. Click on the link below for more info.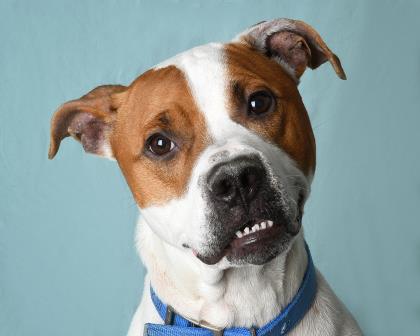 Pupdate:
Last week's pup Bella was adopted to a great home! She really was such a sweet girl. So happy for you Bella!